TripleClicks
Your online e-commerce store, TripleClicks is often abbreviated as TC. TC launched on January 5th, 2009. TC  launched with just 6,000 products and has grown to 90,483 from thousands of sellers in over 110 different countries.
TripleClicks Is Continually Growing
In addition to the current 90,483 items, HUNDREDS of new products are added weekly, so there's always something fresh and new.  Not seeing anything you particularly want to sell right now?  No problem.  Next week there might be dozens of products you're excited about!  You'll also be interested to know that virtually any type of product or service can be added!
A state-of-the-art e-commerce community FULLY integrated with the SFI system, opening up earning opportunities as never before possible for affiliates around the world!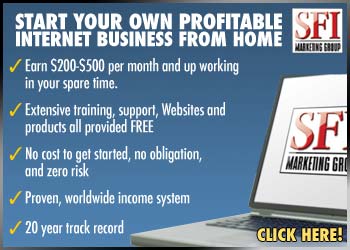 Your SFI affiliateship automatically includes a TC membership and access to more than 90,000+ products lining its virtual shelves, with new products being added daily. As an SFI affiliate, generating internet sales is a big part of what you do.  And those sales all come from SFI-powered TripleClicks.
Through TripleClicks, you'll find products in a wide variety of categories, including: Antiques & Collectibles; Apparel; Arts & Crafts; Books; Business; Computers; Digital Downloads; Education; Electronics; Food & Beverage; Gifts & Flowers; Health & Wellness; Home & Garden; Jewelry; Magazine Subscriptions; Miscellaneous; Movies, Music & Games; Personal Care & Beauty; Pet Care; Phone & Accessories; Real Estate; Romance; SFI; Sports & Outdoors; TCredits; Tools & Automotive; Toys, Kids & Baby; and Travel.
TripleClicks Is Much More Than Just An e-commerce Site
24-hour penny auctions that feature savings of up to 99% off retail (with a guaranteed minimum savings of 77% on every auction)!
Fun and engaging games to attract the more than 100 million people who play games online daily!
25 free daily drawings for customers, that allows shoppers to win thousands of dollars in prizes every week.
Every purchase at TC comes with Member Rewards Points (MRP)… to keep customers coming back again and again!
A customer referral program that gets your customers bringing in more customers (all of who can earn you lifetime commissions)!
In short, TC has something for everyone–and that makes earning money online not only realistic but also potentially highly lucrative.
TC Is A State-of-the-art Internet Store Site Featuring Numerous Amenities Including:
Express Checkout
Mobile responsive (browse TC on any mobile device)
Wish Lists
Online order/shipment tracking
Exclusive, money-saving deals, sales, and closeouts
Advanced search features
Standing Orders (your PRMs can set up orders to have consumable products shipped to them monthly automatically, meaning monthly commissions for you)
One-click sitewide currency conversions for 17 major world currencies
Dozens of payment options (including exclusive LocalPay™–which allows you to pay with your own local currency, or even use barter for payment
and much more… and much more still in development!
With all these powerful features, and massive future expansion coming, your store represents a business opportunity unlike anything else on the internet.


Sign Up SFI Affiliate (Automatically Include TripleClicks Membership)
No Thanks (Just Interested Only On e-commerce Platform Of TripleClicks)